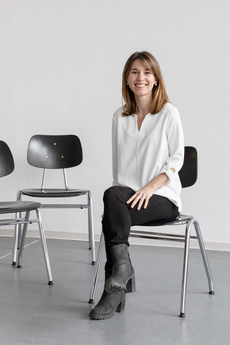 Dipl.-Ing. Romina Rissetto
Profile
Romina Rissetto is a researcher and lecturer at the Building Science Group at Karlsruhe Institute of Technology (KIT). Her work focuses on indoor environmental quality and building performance with emphasis on the assessment of thermal comfort and building modelling and monitoring.
In 2014 she completed her studies in architecture at the University of Buenos Aires, Argentina, specialising in the design and construction of architectural spaces and urban development. After her graduation Romina gathered experience in architectural design, construction management and energy consultancy, and was involved in teaching and research activities in her home university. In 2015 she continued her further master studies focusing on building physics and environmental design at the Technical University of Vienna. Along with her studies, she worked as a tutor at the international 'Green.Building.Solutions' Summer University in Vienna, with a participation of more than 50 students around the world.
In 2018 she enrolled as a PhD candidate at KIT to investigate the effects of occupant expectations on thermal comfort and the use of personal comfort devices in non-residential buildings. She authored and co-authored 6 papers published in peer reviewed journals and conference proceedings. Besides her participation in several conferences, she received a distinctive travel award for the ISES-ISIQA joint conference held in 2019 in Kaunas, Lithuania. Recently she was awarded by the Karlsruhe House of Young Scientists at KIT with a research travel grant for a four-month stay at the University College London.
Since 2020 Romina leads the joint research project 'Deck-in-Vent' funded by the German Ministry for Economic Affairs and Climate Action . The project focuses on the development and implementation of personal ceiling fans within the framework of an office building renovation in Germany. Within her research activities, she actively participates at the IEA EBC Annex 79 on 'Occupant-Centric Building Design and Operation'.
Together with her research activities, Romina holds several courses and supervises master theses at the Faculty of Architecture at KIT, focusing on building physics, technical building services and building simulation. Along these years, she expanded her teaching skills by completing several courses, including the first module of the 'Teaching and Learning at University Level' program organized by the Baden-Württemberg Centre for Teaching and Learning. In 2021 she took part of the electoral committee for a new professorship at KIT.
Romina is proficient in Spanish, English, German and learns Italian. She enjoys playing tennis and football, travelling and painting.